Organiser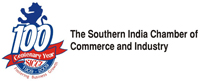 The Southern India Chamber of Commerce and Industry (SICCI), which is completed hundred purposeful years of existence and is one of the oldest as also largest and prestigious institutions of its kind in India. It was established in 1909 under the inspiration of the Father of Nation, Mahatma Gandhi who not only initiated the Swadeshi Movement to motivate Indian businessmen to further venture into industry and trade and to ensure that home made Indian products are patronised by our consumers which will also create employment and generate image for the country. Ever since its establishment, this regional body has grown from strength to strength underthe dynamic leadership of a galaxy of eminent Presidents.

The SICCI has served Indian business by protecting and promoting their interests at the Regional, National and International levels. The Platinum Jubilee Celebrations of this august body was inaugurated by the then Prime Minister of India, Shri Rajiv Gandhi in 1987 when Dr. A.C. Muthiah was the President ofthe chamber.


The Chamber is a founder member of The Federation of Indian Chambers of Commerce and Industry (FICCI), New Delhi, the apex body, and continues to take an active interest in the affairs of this national body. Many Presidents of the SICCI have also been Presidents of FICCI and many members are also on the committees of the FICCI and other national bodies.
Vision
The SICCI will strive for excellence in service and be a leader to protect business, facilitate its growth, Ensure corporate governance, and enhance the image of private enterprise in their endeavour to promote economic growth.
Mission

To be a catalyst of positive and creative action in the pursuit of excellence for the Southern Indian business community.

EXIM INDIA is a reputed and all-India recognised premier publishing house. It publishes a daily newspaper'Exim Newsletter' from Mumbai, Western India and New Delhi, and Exim India -'Shipping Times' from Kolkata, Chennai, Cochin andTuticorinforthe last 32 years.

Through these daily editions, a wide coverage is given to all important news, views and reviews related to shipping, ports, maritime trade, imports and exports in India and abroad.

The special feature of all these daily editions of EXIM is that it is mainly dedicated in publishing up-to- date shipping schedules of all major ports in India along with the news on exports and imports.
EXIM INDIA has its head office in Mumbai, with experienced and skilled man power. We are fully equipped with the latest communication and IT systems. In addition, we have a network of branches with full infrastructure at Delhi, Kolkata, Cochin, Chennai, Bangalore, Tuticorin, Kandla, Ahmedabad, Vizag and associates all over India.

Thus, EXIM INDIA today covers all important cargo centers as also major industrial cities all over India. With a vast readership base spread all over India, we have been able to establish and develop excellent business relationships.